Help Center
Here you will find valuable resources to help you prepare your files for print and answer many common questions. Select an item on this list to get more information.
Design your files correctly the first time!
Explanations for the most common design problems.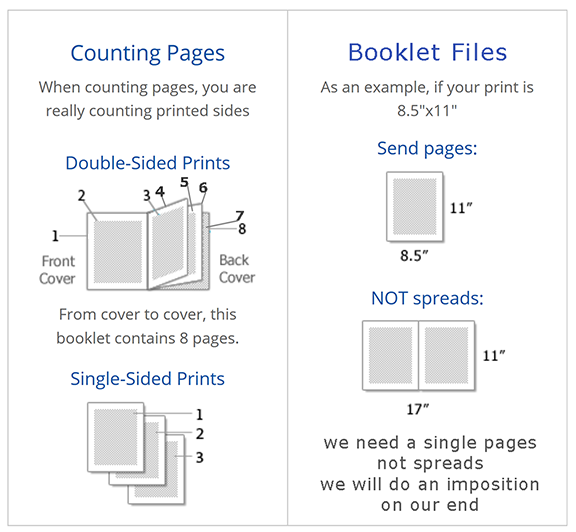 File Size
You can design your file any size you like, there is only couple rules you need to follow to make the file size print ready.
Content margins
Text should be no closer than .125" on single sheet printing (flyers, postcards, etc.) and .25" on booklets
For Coil Bind and most Importantly Perfect Bound Books, the margins should be no less that .25 on top, bottom and fore edge and 0.5" on the spine edge, but for the Perfect Bind books we recommend .75" because the book doesn't open flat and the content will be hard to read if it's too close to the spine edge.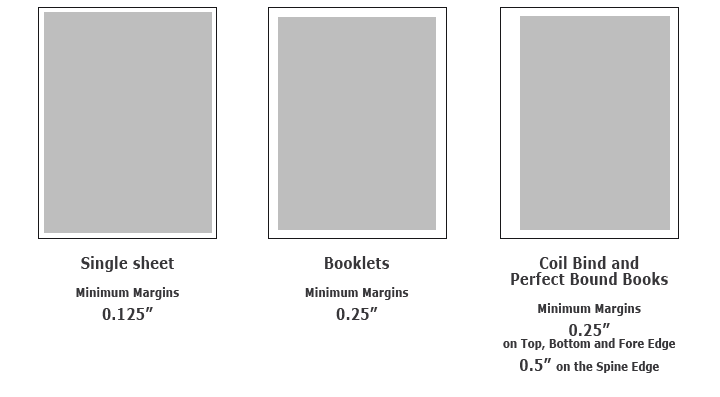 Bleed
Please review the images below to understand a bleed. How to design with a bleed. By default, when printing there will be a .25" white border around the sheet of paper. In order to eliminate the white border, please design an extra 0.125" all around the edges. For example, an 8.5x11 file the file page size should be 8.75"x11.25". You will need to extend the color background/image in your file all the way to the edge of an 8.75"x11.25" design, that will become an 8.5 x 11 completed size.
For a bleed design to work correctly, the design image must be oversized so when we cut the paper down, for this example an 8.75" x 11.25" cut down to an 8.5 x 11, we will be trimming part of the image to create the edge to edge print or bleed. Reminder- if this gives you a headache- just put in notes "call me I need help with the full bleed design", we will get on the same page before we print-we are here to help. Thank you
Below are some examples of full bleed scenarios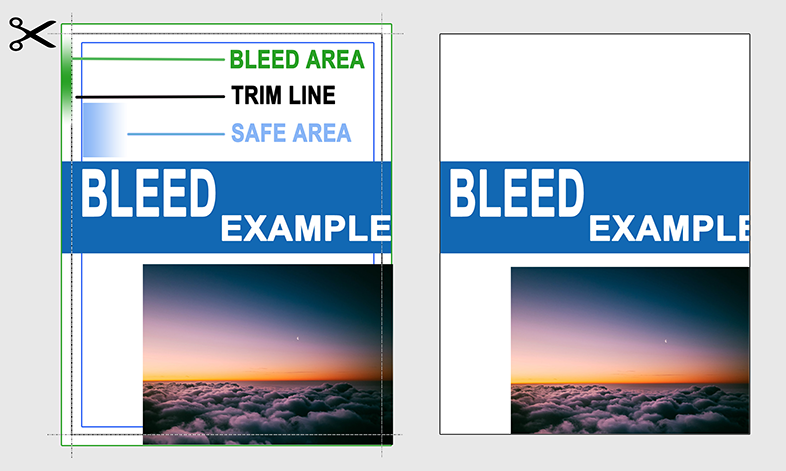 Resolution
Print resolution is measured in DPI (Dots per Inch) or PPI (Pixels per Inch). The standard print resolution is 300DPI, but in today's technology we recommend 400DPI or even 600DPI for files what have a small text such as business cards. Generally more DPI you have, the more detailed and sharper the image will be. But don't go over 600PDI because you will create a large file size and it will take a long time to upload it to our server.
How to convert file sizes to Pixels for Program using Pixels as Image Size
Example 8.5x11 file size in 300DPI = 2550x3300 pixels
8.5x300=2550  |  11x300=3300
Inch to Pixel File Chart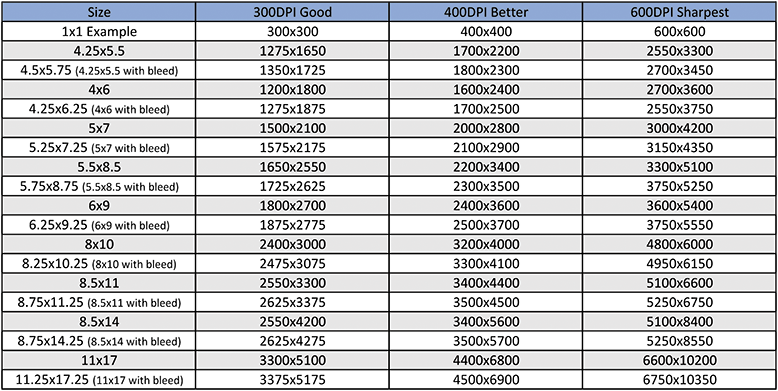 Color Space
There are two basic color spaces used in digital word RGB (Red, Green, Blue) and CMYK (Cyan, Magenta, Yellow, Key which stands for Black). RBG mixes the colors using Red, Green and Blue light, when all light color are mixed together they create a White Light. RGB is used as the color space for Computer Screens, TVs, Phones, Tablets and everything what have a screen. Because we use more screens that print product, many programs use the RGB as default color space to create a file. RGB has a larger color space than CMYK. Most designers work in RGB when making their artwork but after the file is finished its converted to CMYK and sent to the printer. CMYK (Cyan, Magenta, Yellow, Key stand for Black) is used as the color space for the printing. CMYK mixes Cyan, Magenta and Yellow colors and adding the K or Black to save the cyan, magenta and yellow inks to create a darker or Black tones.  When saving the files from RGB to CMYK color scale you will see a color shift. The color change is visible on the Greens the most because the green color spectrum is much smaller in CMYK color space that RGB.
Below is an example of RGB to CMYK conversion.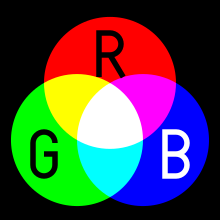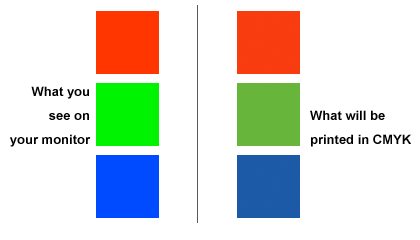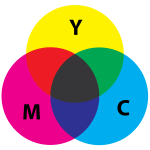 Fonts
If you creating a file using standard fonts there should be no font issue in your file, but if you are downloading a custom fonts from the internet you should embed or convert the fonts to outlines to prevent font issues. By embedding fonts you will insure that when we receive your file your fonts will look the same on our end as they do on yours. If you do not embed your fonts, there is a risk of the text and the layout being different on your prints. If you don't have the ability to embed the font or outline them we recommenced  to send the custom font files with your print files. The best way is to create a zip file what includes your print file and the fonts used in the file.
File Type
PDF is the most used and preferred file type to upload to the printer. Most programs have the option to save the file as PDF, if you can save the file as PDF and you send us a different type of file such as Word, Publisher, PowerPoint, Photoshop, Illustrator, InDesign and other File Creating Programs, we will save the file as PDF and send you a Proof of your document what you will need to approve before it will be send to production. This can extend your production time.
If you don't want any delay on your order, please upload a PDF or High Resolution JPG, PNG or TIF file.
You can select the turnaround time in the READY TO SHIP IN option. The turnaround time combines with the shipping transit time and give you the Guaranteed Delivery Time. So if you need the product to be delivered in specific date, you have the option to do so by changing the turnaround and transit time in your shopping cart.
SpinnPrint.com use 3 shipping providers. FedEx, USPS and GSO.
For Guarantee Delivery Date options in our shopping cart - we use FedEx Express. When you choose Flat Rate or our Free Shipping option we choose the fastest shipping provider to your shipping address. Reminder if you have a Trade show, event, or occasion and must-have delivery date please choose our Guaranteed Delivery Date options in your shopping cart.
If you need our Rush ON Demand for a same day Production please call and request a price quote for a Rush On Demand - same day production. 949 305 6680. Thank you!
We are not in the business to reprint or refund thus we have solid check and balance system to make sure we earn your business the first time. We print with the best HD quality printers on the market. Competitors can have as good equipment not better. We always invest in the best. I practice what I preach this is my cell number 949 305 6680, have a problem I will correct and resolve, Brett CEO.

Free File Check
We Check Every File to ensure the Best Print Quality Possible if there is an issue with the File we will contact you and Help you to correct the problem with your file.
Templates
Save time by using our free templates. Our templates have been setup with proper bleeds and margins, assuring your print job turns out accurate. To download click on the template below.
   8.5x11 Flyer
   8.5x11 Tri Fold
   8.5x11 Books (Coil Bind - Perfect Bind)
   8.5x11 Saddle-Stitch Booklet
   5.5x8.5 Booklet
   6x9 Booklet
   25.5x11 6 Panel Tri-Fold Brochure